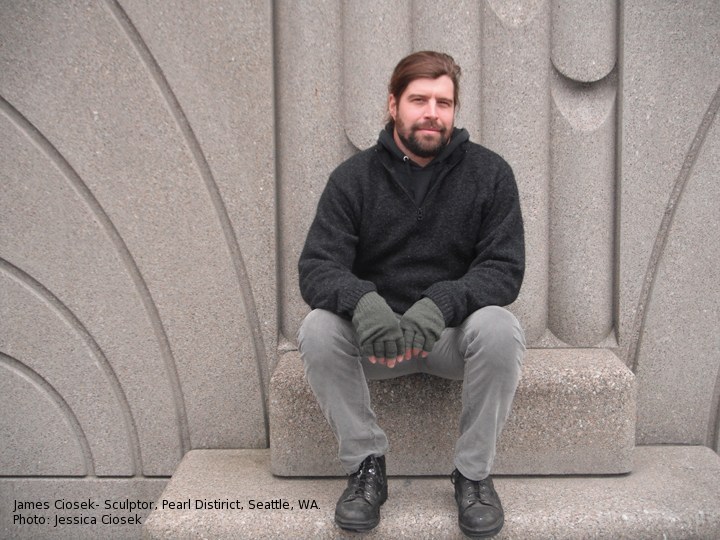 James Ciosek lives to sculpt in Houston, Texas. On May 7th., 2016 he will be exhibiting with Zoya Tommy. His recent happenings have been a group show in Oaxaca, MX, a Windgate Fellowship at Urban Glass, Brooklyn, NY, a six month exhibition of his interactive and collaboration inspiring "Human Hamster Wheel," and a one year outdoor installation of his large scale series "Constructed Chaos." Critic Robert Boyd respectively lauded these last two, both in Houston, as "inherently fun," http://www.thegreatgodpanisdead.com/2012/12/going-nowhere-fast.html, and "a pretty magical experience," http://www.thegreatgodpanisdead.com/2012/01/post-industrial-pagan-megaliths.html.
     His grandfather taught him how to weld at age eleven. A hands on, self-taught sculptor, with an ever expanding mixed media studio, James Ciosek builds most of his own equipment. He graduated from NYU in 1993 with a degree in Mass Media and quickly entered the art, design, and artisanal scene in New York City. He studied glass bending, casting, stained glass, lamp work and mold making at Flickinger Glassworks, NYC, and neon at Brooklyn Glass, NYC. For ten years Ciosek learned blacksmithing with Southern Ohio Forge and Anvil, the largest and most active A.B.A.N.A. chapter in the country. He chalks up twenty years of experience as a welder/fabricator, and is currently exploring new techniques for glass enamel on metal and vacuum forming of plastics.
Ciosek has run his own high end custom iron shop since 1999 and shifted his emphasis to sculpture in 2004 after his well received "Brownfield Flowers" exhibition at Cochran Gallery, Dayton, OH. Moving to Houston in 2006, the artist maintains a dedicated studio in the Northline district.